FULL TEXT PDF
Boston University School of Law
Law & Economics Working Paper No. 15-49
by James Bessen
Are computers causing technological unemployment?
Automation has become a concern not just for blue-collar manufacturing workers, but also for white-collar workers and even professionals. New computer programs, some using artificial intelligence, are taking over tasks of bookkeepers, bank tellers, clerks, and others. Some people see this replacement causing technological unemployment. In their view, because people are losing jobs to machines, unemployment has risen and this is a major reason that the recovery from the Great Recession is so slow. Other people see the unemployment mainly affecting mid-wage jobs such as those performing routine clerical tasks; these people see the impact as "the hollowing out of the middle class."

This paper conducts the first study to look at the effect of computer automation on a comprehensive set of detailed occupations from 1980 through 2013. Specifically, it investigates the effect of computer use on employment growth and other changes within 317 occupations in 241 industries. While the focus of the paper is on automation, it is important to note that computer technology can affect work in other ways as well. For instance, digital technologies might facilitate offshoring by reducing communication and transportation costs; those phenomena are not analyzed in this enquiry.

The study finds that computers are transforming work, but not by reducing total employment. Computers are not "stealing" jobs. Instead, occupations that use computers are growing, sometimes at the expense of other occupations. But this means workers need to learn new skills or even to switch occupations. Because these skills are sometimes difficult to acquire, computer use contributes to rising economic inequality. This different diagnosis is important because it suggests very different policy responses.

The main findings are:


1. Employment has grown faster in occupations that use computers more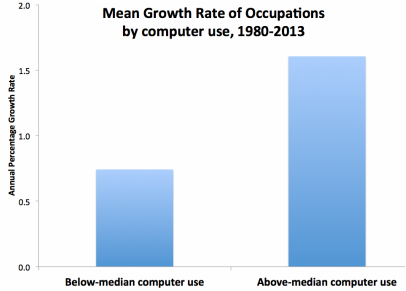 On average, computer use was associated with employment growth that was 0.9% faster per year. The association between employment growth and computer use can be seen in simplified fashion in the following chart (the paper performs a more sophisticated analysis):


---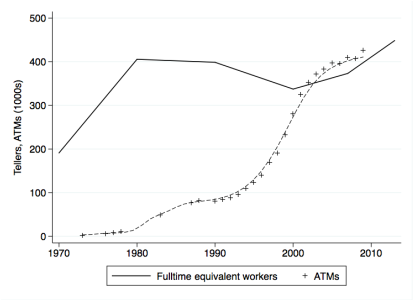 Moreover, this pattern is true not only for highly paid occupations, but also for mid-wage jobs and jobs that involved routine tasks. Thus computer automation does not seem to be associated with growing unemployment of bookkeepers, bank tellers, etc. For example, this chart shows that bank teller jobs grew despite the large-scale adoption of automated teller machines from 1995 to 2005.

It might seem puzzling that teller employment grew even though computer technology took over cash handling tasks. But the paradox is resolved once we look at the economics involved: automation increased demand for the occupation. The ATM machine reduced the cost of operating a bank branch office, so banks dramatically expanded their branch offices, hiring more bank tellers. Increased demand offset the erstwhile job losses.

---
2. Occupations that use computers take jobs from other occupations on average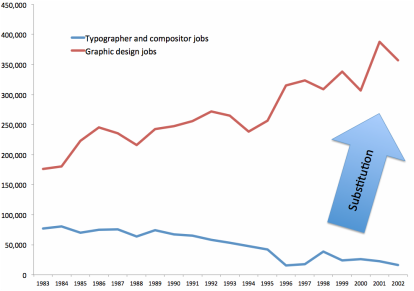 Sometimes, however, the increase in demand comes at the expense of other occupations. Consider, for example, the effect of computers on typographers. Desktop publishing dramatically reduced jobs for typographers in the 1980s. However, this was not a case of computers taking over the work of typographers; it was the substitution of one occupation for another. Graphic designers, using computers with desktop publishing software, have taken over much of the work of typographers. The number of graphic designers increased more than the decrease in typographer jobs.

Computers contribute to declining employment in some occupations, but that does not mean that the net effect is a decline in the total number of jobs. What matters is the net balance of increased demand and decreased employment from substitution. The paper finds that computer automation creates about as many jobs as are lost through substitution. Thus computers are not causing technological unemployment.


---
3. Computer use is associated with greater wage inequality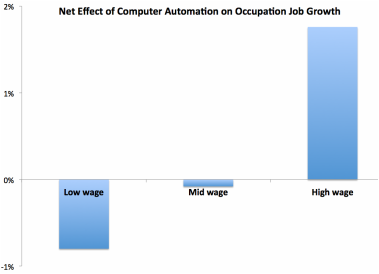 Although computer automation does not appear to be causing a net loss of jobs, it does imply a substantial displacement of jobs from some occupations to others. Moreover, the burden of displacement falls disproportionately on workers in low wage occupations, mainly because low wage occupations use computers much less than high wage occupations do. That is, computer automation helps high wage occupations take over work from low wage occupations. The net effect implies a substantial dislocation of work to higher wage occupations.


---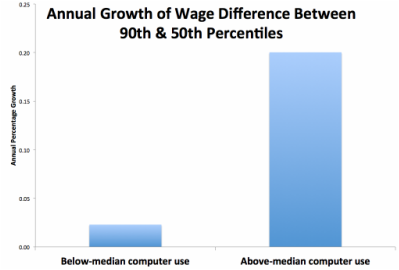 Job displacement would not be a serious concern if workers could easily acquire the skills needed to practice new occupations. However, the evidence suggests otherwise. Indeed, even within occupations, many workers are having difficulty learning the skills needed to work effectively with new computer systems. When the best workers within an occupation are able to learn new skills while the average worker is not, the wages of the best workers grow faster than the wages of the average worker. This chart shows that the gap between the best (the 90th percentile) and the average (the 50th percentile) has widened substantially for occupations that use computers, but not for other occupations.

These changes within occupations explain a substantial part of the growth in wage inequality within the workforce as a whole. They imply that the cost of learning new skills is high so that computer automation places a substantial burden on many workers, particularly workers in low wage occupations.

---
Conclusion
Over the last three decades, computer automation has not created technological unemployment, but it has displaced many workers, requiring them to learn new skills. It is possible, of course, that future automation might have a different effect.

Nevertheless, these findings are important because they have strong implications for policies to address the current economy. These findings imply that a variety of policies can help counter the effects of computer automation, such as policies to facilitate employee mobility or vocational education. In contrast, if automation is causing persistent unemployment, then there is little that policy can accomplish other than to provide relief for the unemployed or to slow the adoption of new technologies.