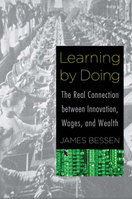 Wall Street Journal
review
of Learning by Doing. "
The issues at the heart of "Learning by Doing" come into sharp relief when
James Bessenvisits a retail distribution center near Boston that was featured on "60 Minutes" two years ago. The TV segment, titled "Are Robots Hurting Job Growth?," combined gotcha reporting with vintage movie clips—scary-looking Hollywood robots—to tell a chilling tale of human displacement and runaway job loss.
Mr. Bessen isn't buying it."